Being a versatile artist, I can paint in many styles from Van Gogh to Degas to Thomas C Fedro – all famous artists that I have been previously been commissioned to paint in the style of.
All my materials are of the best artist and archival quality ensuring a long life of your painting.After contacting me, we will discuss your requirements and I will keep you informed at every stage. There will be opportunities through this shared process to make minor alteration as we progress. Wherever possible if painting a portrait, I like to meet the subject – it gives me the opportunity to get a feeling for character and true colour– although it is not essential as distance and circumstances may not allow. As long as I have a few good photographs -I will be able to advise the best way to do this – but if this is no longer possible due to circumstances – anything is possible with technology and a good chat.
Christmas 2021 pet portraits
I am currently taking orders for Christmas of pet portraits. It seems early I know being just the end of August, but I do get busy so please book your painting as early as possible to avoid disappointment.
For testimonials and previous commissions – please see below
To give you an ideas of price – please see below although I can paint any size
OILS – unframed on stretched canvas- please allow 3 -5 weeks
small 30cms x 30cms £285 + postage
medium 40cms x 40cms £385 + postage
PASTELS – framed with mount – please allow 1 – 3 weeks
small – A4 framed £185 + postage
medium A3 framed £295 +postage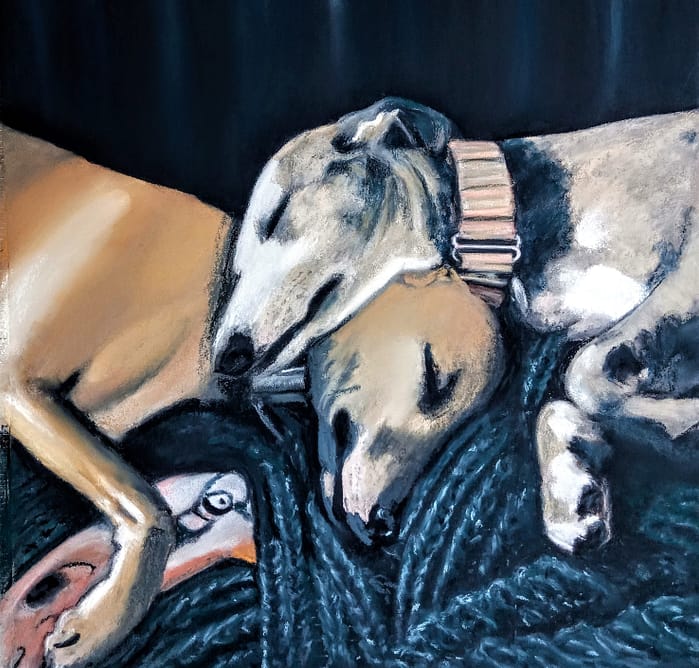 How much will a commission cost?
The price will vary on the size – but as a rough guide a for your budget.
Oil painting will cost approx.. £1.00 – £1.25 per sq. inch incl. p&p in UK. Frames not incl. but can be quoted at cost.
Pastel painting approx.£0.75 -£1.00 per sq. inch with mount & quality frame, p&p in UK incl.(watercolour and mixed media will be the same as a pastel)
After an initial consultation, where a draft idea will be produced for you free of charge, a 50% non-refundable deposit will be required at the start of the painting commission to cover material costs.
How long will a commission take?
Depending on my current undertakings a pastel can be as little as a week and an oil painting between 3 – 6 weeks.
My Previous work
Click on any image to see in detail with customers comments